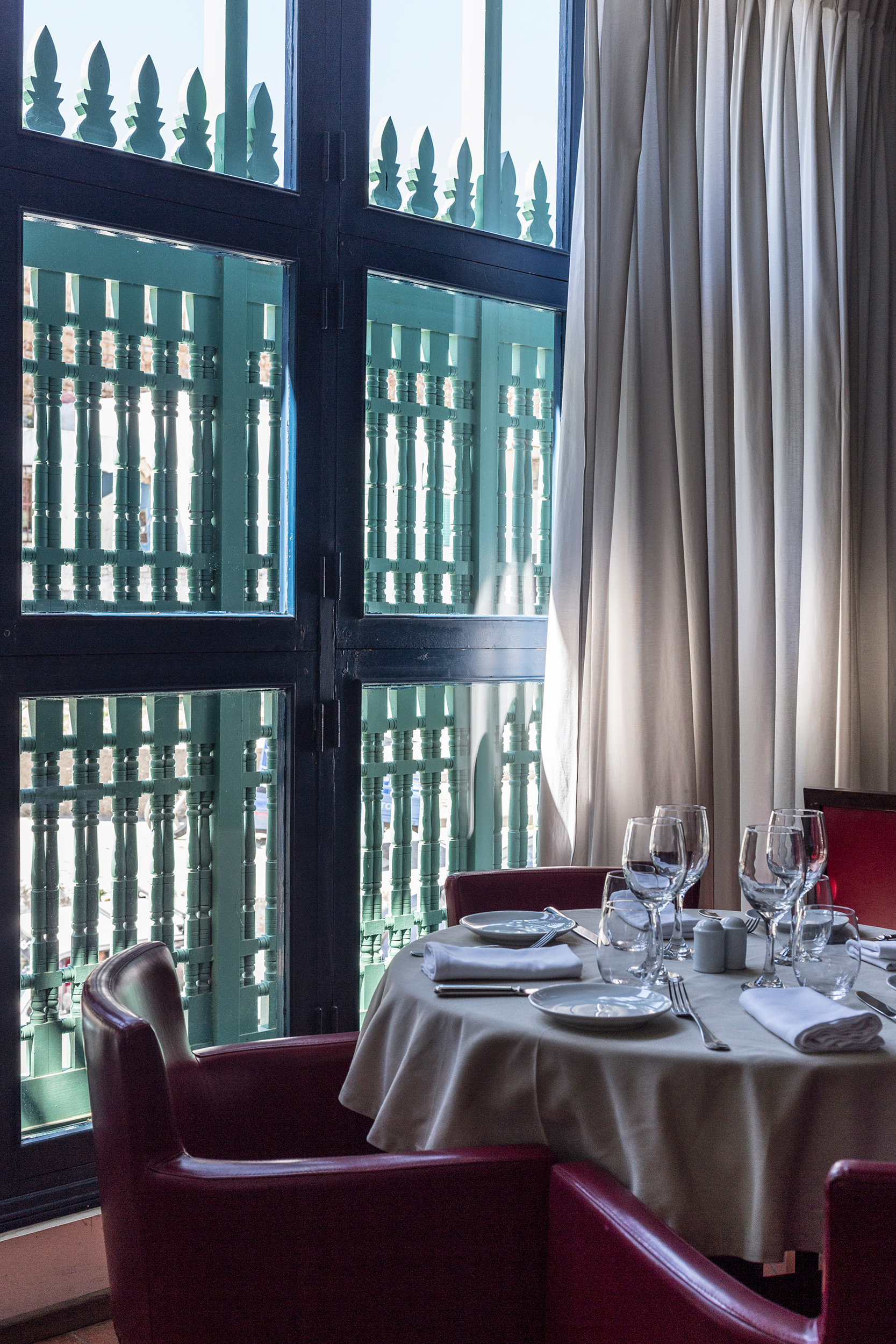 Restaurants
Here are just some of the many restaurants in Tangiers... A small homemade food selection...
Closeby
El Morocco Club : Unmissable in the Kasbah. And our absolute favourite! It's in the Place de Tabor (Tabor Square) at the entrance of the Kasbah. You can be outside for a snack at lunch or go inside for the more 'chic' restaurant in the evening (it is best to reserve – just let us know).(Alcool). www.elmoroccoclub.com
The "Las Chicas" tearooms : Open 10.30am -7pm. Located at the entrance of the Kasbah, in Ayda's beautiful family house, one of the 'chicas' with Yasmine. Lovely salads, excellent quiches and desserts…to die for! Ayda is a real cordon bleu chef and works in the kitchen. Prices are very reasonable. And, whilst waiting to be served, you can look around the concept store which gathers together some of the best creators in Morocco. Here, you'll find the creations of 'Au Fil de Tanger', Marie's clothes and house linen range.
"Le salon bleu" : Another great little tearoom, located in the Kasbah square (place de la Kasbah), a few steps away from Dar Tus. You can also eat lunch or dinner here. A great view from the terrace. Cosy atmosphere. Tel : 05393-71618
"Aux trois Portes":  Rue Oualad Sidi Ben Assa. Tel : +212 (0)6 71 58 10 18. Fantastic typical Tangiers house, in the Marshan area (top end of town), with a great view over Spain. You can have lunch there in the garden: Magnificent and magical! Couscous on Friday.  aux3portes.com
Le Rif Keftani: very close to Dar-Tus, just below the Hotel Continental : traditional food and cheap. A handy address.
The Zahia palace (Le palais Zahia): In the "petit Socco", also very close to the house. Large room, perfect for groups, décor typically Moroccan. There is a panoramic terrace where you can just have a drink. Good quality Moroccan cooking. Good prices. No alcohol… palais-zahia.com
Darna : a house run by women. Lunch only. Near the "Grand Socco", in "Slipper Alley" (the street that sells the "babouches"). Traditional food. Prices very reasonable. Couscous Fridays.
Dar El Kasbah : 12 rue de la Kasbah. Lovely terrace. Moroccan cooking. Couscous on Friday. Reasonable prices.
Hamadi: Rue d'Italie, en bas de la Kasbah. Touristy restaurant with Moroccan cooking. Live music in the evening. Alcohol available. Good prices.
Chez Hassan : Small local restaurant, located just before the Dar El Kasbah terrace. Very good tagine.
El Tangerino : 186, Avenue Mohamed VI, Corniche de Tanger. Very great view and beautiful décor. Very good tapas. Spanish atmosphere. Mediterranean cooking. Alcohol served. Téléphone : +212 5399-43973. Tip : book in advance and ask for a table on the first floor opposite the sea).
Chiringuito : Restaurant on the "Tanja Marina Bay". Very nice decoration with a big terrasse. nice view too. Very good tapas. Alcohol served. Open everyday 1pm to 2am.
Tel : +212 539403040
La Casa Italia : In the Italian Palace, on the Hassan 11 avenue. A pretty setting, although a little outdated. You also go there for the atmosphere. It serves Italian food, including pizzas (but only in the evening). Good prices and alcohol is available.
Ali Baba : Mohammed V1 avenue (seafront boulevard). Oriental specialties (Lebanese, Moroccan) Tel : +212 5399-41376. Very good prices. You can also take away.
A little further away
La villa Ô Saveurs : Gastronomic restaurant, very good Mediterranean food (and alcohol available), with a good menu. Garden particularly pleasant. On the first floor, there is a lounge space, where you can have a drink whilst nibbling on some tapas. It is located just outside the town so we advise to go there by taxi. 15, rue Boubana, California. European prices.
Eldorado : 21, rue Allal Ben Abdallah, tel : + 212 39 943 353 Always a very good selection of fresh fish. Good prices.
La Bodega : Tapas bar. Very good atmosphere.
Le Panorama : Avenue Mohamed VI, Tanger. On the seafront, opposite McDonalds. European and Moroccan food. Take a stroll along the promenade and have a snack there overlooking Tangiers bay.
 In the surrounding area:
Chez Abdou : towards Asilah near the Diplomatic forest, on the edge of the sea. Open air restaurant: sells fish, tajines, paella, alcohol. Good prices.
Côté Sud : on the beach (the Cap Spartel coast). Good Mediterranean cooking. A very pleasant setting, with a lovely terrace overlooking the sea. European prices (alcohol served).
L'Océan: Sidi Kacem Beach. +212 5393-38137. Mediterranean food. European prices.
Hôtel le Mirage : Before Sidi Kacem beach. Stunning place. Lunch and dinner available. European prices (alcohol served).